Graduation weekend at its end
We are now at the end of what must be the most important weekend each semester, graduation weekend. The films were shown on friday evening in Laugarasbio and the graduation ceremony was held on Saturday. Unfortunately the students were forced to wait over the New Years as a result of Covid, but finally got to thoroughly enjoy the fruits of their labor.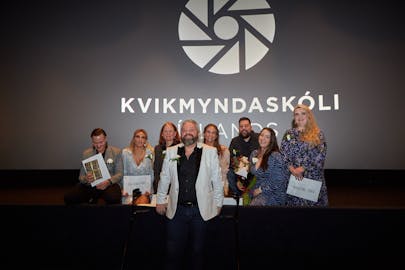 Prizes were given out for the best films in these categories:
Best film from Creative Technology - "It's her" by Rosa Vilhjalmsdottir and Gunnar Orn Blondal
Jury review :
"A comical and quality film that perfectly fits the short film genre. Filming is trusty and perspectives often interesting. The editing is effortless and it flows steadily. The performance of the ensemble is convincing and at times exciting."
Best film from Acting - "Oddur Orn:  Madurinn sem sigradi hvalinn" by Arnfinnur Danielsson
Jury review :
"An interesting and different film where circumstances and theme demands from the actors and participants to show how far they are willing to go to achieve their goals and where the limits lie between artistic expression and reality. A senisitive, enthusiastic and convincing performance from the lead, the whole ensemble is tight knitted and interpretations on situations both believeble and exciting. A true ensemble film where everyone gets to shine."
Best overall film, recipient of the "Bjarkinn", went to "Dimmvidri" by Sigurgeir Jonsson
Jury review :
"A professionally made film from Icelandic reality. The acting is exemplary, truly believable atmosphere between brothers and coworkers. The cinematography, lighting, sound and other technical aspects were impressive. The script is convincing and directing secure and steady."
The ceremony went well and we can say that the graduation class left excited about what adventures the future holds.